Old DOS Games
In the early 1990s I wrote some games for MS-DOS. They were all in QuickBASIC and used the IBM text mode screen, as was still almost acceptable in those days. My PC didn't have graphics at first anyway. Not long ago I found some of my old DOS games on a floppy disk and rescued them. Now you can download them, look and laugh. A couple of them are still playable, if you like turn-based strategy games and don't mind the lack of graphics.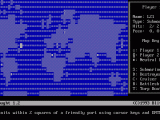 Download: dread120.zip
Size 40kb, downloads 1153.
The first strategy game I wrote for the PC was Dreadnought. It was written in 1992, in the days when a text mode display was still just about acceptable, at least in shareware and freeware games for PCs. Like a lot of hobby programmers then and now, I liked to pretend I was a company rather than an individual and adopted the name "Blitzkrieg". The game is set in the battleship era, and allows you and your enemy to ... (read more...)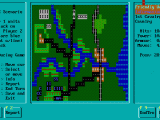 Download: swc111.zip
Size 108kb, downloads 1001.
The Simple Wargame Creator was inspired by Wargame Construction Set on the Commodore 64 and Amiga. The players could play one of the supplied scenarios, or design their own using the editor that came with the game. Because SWC used IBM's text mode, scenario designers weren't limited to a set of pre-drawn sprites: any of 26 letters could represent any unit type they wanted to include. Because my skill in artificial intelligence wasn't up to the job of controlling ... (read more...)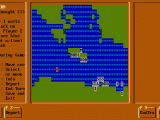 Download: dread200.zip
Size 118kb, downloads 917.
I had already written Dreadnought, a simple naval battle game, and Simple Wargame Creator, a slightly more detailed game. Dreadnought II was a marriage of the two. It used IBM's text mode, like the other two games, but with the better presentation of SWC. I managed to build in a computer player, unlike in SWC. In Dreadnought II I knew what the units were going to be, and had an idea of how they should behave. There are a ... (read more...)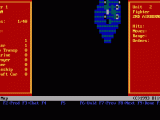 Download: imperial.zip
Size 68kb, downloads 946.
At the time I wrote Imperial Conquest I had a monochrome, text-only IBM PC. I enjoyed playing Empire on the Amiga, but the Empire game available for my elderly IBM PC wasn't very user-friendly. So I wrote my own version, with a better interface but for some reason a smaller map. Between two and four people can play. I never mastered the art of getting computer players to load and unload units onto carriers and transports, so this is ... (read more...)